Instagram for Real Estate
What should a Real Estate Agent post on Instagram?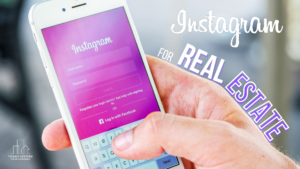 Instagram and Real Estate are the perfect combination in just about every way.
Quick pics, short videos, direct messaging, and geo-targeting services make it the perfect spot to showcase your business. We have agents all the time ask us, "What should I be posting on Social Media." And as simple as the answer may be, the variety of posts that a Real Estate Agent can post is almost endless.
With over 1 billion users on this mobile-friendly platform, your audience is as extensive as the content that you can release. So we ask you, a Real Estate Agent in return, what do you want to post?
Our Marketing Administrator here at Texas Secure Title Company has a few recommendations for you on how to tackle this beast of a giant that is, Instagram:
Current Properties
Keep it simple, what properties are you trying to sell right now? Is it in a prime location that new homeowners are gravitating towards? Give it as much appeal as possible by taking pictures during "Golden Hour" (the period of daytime shortly after sunrise or before sunset) This gives the illusion of a more approachable home. A lot of agents like to stage their homes and create the vision for the buyer. Remember, this isn't the listing, this is a single image that will draw the attention of hundreds of potential buyers. Be sure to include the property address, specs of the home, and any other information you might want to include in the caption of the image.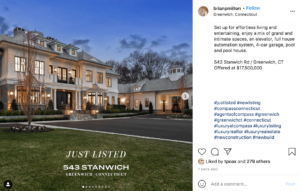 Future Properties
Marketing is all about selling the fantasy. Whether it be for a new car, new shoes, a new vacuum cleaner. It's all about elevating the human experience and real estate is no different. Most agents like to "tease" their audience by promoting future homes and developments. If you know a home will be on the market in a few weeks or months, don't be afraid to post pictures of it because it will generate interest and keep those wide-eyed homebuyers coming back to see what else you might have.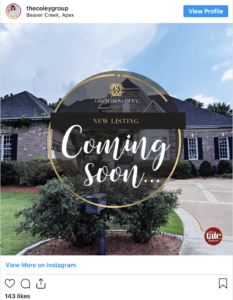 Sell Your Success
There's nothing wrong with scratching our own backs' sometimes. Let your audience know how fast you can sell a home. How you found a home buyer their dream house in less than 3 days. Building rapport with your audience before they even get the chance to meet you in a direct conversation will make the home-selling/buying process much easier and will allow them to trust you with their future.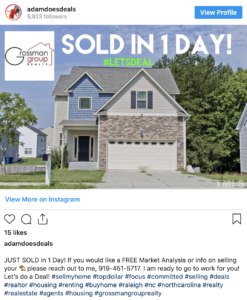 Virtual Open House
We have seen a huge boost in engagement on virtual walk-throughs since the beginning of the Covid-19 Pandemic. These are sometimes the easiest content to produce as well. All you need is an empty house, a camera, and a steady hand. The best one's are the ones that just show the layout of the home. Show each room, bathroom, backyard, and of course… the kitchen. Home buyers want to see it all. Especially if they already have a mild interest in the home, by giving them a video that they can look at after the initial walk-through, you'll keep their imagination alive by letting them see the inside of the house over and over again.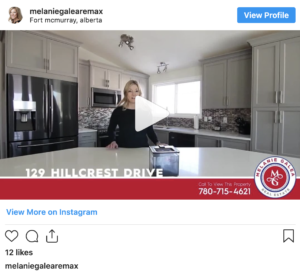 Self-Promo!
This is one of the biggest content strategies that is often overlooked. Post that expensive headshot on your feed and let your audience get to know you a little better. Here are a few questions most buyers and sellers like to know:
Where are you from?
How long have you been a Real Estate Agent?
Why are you a Real Estate Agent?
What do you like to do? (this will help them especially if they want to bring you a gift on the day of closing)
What is your home décor preferred style? (And any other quirky questions to give them a sense of your individuality.)

Market Updates
Buyers LOVE to know who they are competing with. This also gives them a heads up on how a specific area is doing inventory wise and whether or not they should put in higher or lower offers. Because let's be honest, nothing is worse than a new homebuyer putting in a low offer in a competitive market. Maybe you can even designate a specific day of the week for your knowledge-based content… #TipTuesday anyone?
Showcase the Community
Most agents work a general geographic space and area. You want to make sure that you attract your audience to that location. Show them the best farmer's markets in town. Maybe they're more of the "artsy" type? Show them some of the best Museums in the area. Texas Secure Title Company provides you with a monthly flyer showcasing you the best attractions around the DFW area: Checkout our TSTCYouThere Flyer each month HERE.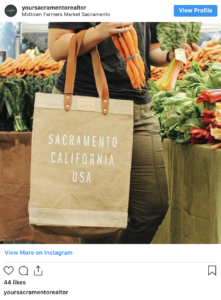 Giveaways
I don't think I have ever met a person who days they do not like free stuff. Start a raffle and grown your audience organically. These is the best way to get your page in front of a new audience. Give them specific requirement like "Follow my page and like my most recent post for a gift card to Target." Once you have them hooked on your page, the rest is history… or in this case, their future.
Hopefully these ideas give you a decent head start on becoming the Real Estate Marketing Guru that I know you can become. Texas Secure Title Company hosts monthly "Social Media Courses" on how to better your marketing social tactics. Reach out today to: marketing@texassecuretitle.com to schedule a training session with you or your team.
Written by: Adrian Hernandez (Marketing Administrator) 5/6/2021
Image Sources: Instagram.com