Creating the Perfect
Home Office
Own the space, don't let the space own you!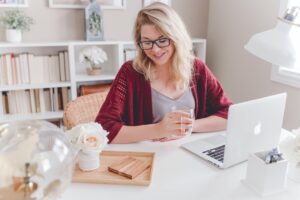 With Social Distancing Mandates still in full effect across the United States of America, there's no doubt that our "Temporary Home Offices" might start to become a little more permanent in the near future, if not already. And while the constant pour of COVID-19 news, political climates, and the addition of caretaking and housework can really add to the clutter of a mess that you have in your home. An assembled and aesthetically appealing workspace will in no doubt make you feel more productive – and even more at peace.
Creating a Home Office might not be easy but here are 5 tips to help you along the way:
Own Your Space
You know the old saying that goes, "Wear the shoes, don't let the shoes wear you?"A statement that can add confidence to any outfit just so happens to also add confidence to your workspace. Many of us don't have the space or allocated room for a personalized home office, so sometimes we have to take the matter into our own hands and DIY an office from scratch. The most important thing is that you designate a space in your home that will be used for "working purposes" whether it's the kitchen table, a desk in your bedroom, or even the coffee table in the family room. Whatever you choose, make sure that it is functional and away from everyday distractions. Apply adequate lighting, a comfortable chair, a seamless tech setup and BOOM, you're the new Steve Jobs (or just about). Own the space, don't let the space own you.
Clean Up!
The least exciting task of our day is tidying up around the house, but it can turn a stressful situation into one filled with peace and meditation. Of course, this comes with commitment and organization – here's one of our favorite declutter blogs – put "office" items nearby and organized. Get rid of clothes, toys, or anything that might distract form the overall appeal of your office. If you wouldn't take it into the office, why have it laying around the floor of your workspace?
Trick Your Mind
The easiest way to make it feel like you are in an office setting is by adding a mood board to the space. Bring in items that you would normally have in an office setting, a small plant, a cute mousepad, a white board, and inspire yourself to work. The mind is easily adaptable to any environment. It just takes a little bit of trickery to get it rolling in your new space.
"Background" Check
I'm not talking fingerprints and drug tests – I mean the actual background. Chances are, if you're working from home you are bound to hop on a Zoom or Video call with a fellow colleague, mentor, or client. Don't let them get distracted by what's going on around you. Take a moment to look behind you and set the "mood" if you will. Add plants, pick up anything that might not look quite aesthetically pleasing, and throw in a few affordable décor pieces that will make you stand out.
Relax
Last but not least – relax. Light your favorite candle, play mellow music, open a window, essentially and ironically enough… make yourself at home! Don't stress over non work things while you're working. If you have to share the space with family members, roommates, or a significant other, plan out a schedule and designate areas in the house for "quiet time" "lunch breaks" and anything else you can think of. Life might be different but that doesn't mean it has to be harder.
Texas Secure Title Company wants your transition to a remote office to be as seamless as possible – let's make your life a step easier by getting started on your home refinance today while interest rates are at a historic low rate.
Give us a call today: 817.519.8800