8 Things To Do After Closing
Important things to do before you walk into your new home.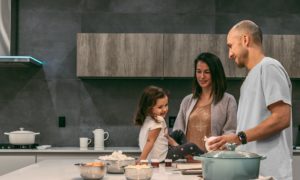 Congrats! You bought your first home. Now what? Well, there are a hundreds of things that need to be done. Here are some of the major 'key' events that need to take place… preferably before you spend the first night. It's time to update, prep, and adjust. Let's get going:
FORWARD YOUR MAIL: The US Postal Service will allow you to register your new address and sign-up for mail forwarding service. Visit your local USPS store or you can easily update this information online.
TRANSFER OR ADD UTILITIES: Change all household utility bills to your name. Most companies will allow you to do this online, or take care of it in person. You may also want to schedule cable and internet set-up appointments.
CHANGE THE LOCKS: Even though you receive a set of keys at closing, there is no guarantee that you have the only copy. To be safe, change the locks after you move in to protect you, your family, and your belongings.
UPDATE YOUR LICENSE: Texas state law requires that you update your Driver's License within 30 days of moving to your new residence. You can do it online at texas.gov – You will also need to update your address on your car registration and insurance.
UPDATE YOUR ADDRESS: Supply your employer, bank, credit card companies, insurance providers, and any other business you make payments with your updated contact information.
SAVE YOUR DOCUMENTS: After closing, scan all of your documents into an electric format to have e-copies of everything. Then find a safe place for the originals.
APPLY FOR HOMESTEAD: Apply for homestead exemption to save money on your yearly property tax bill. You can apply online or in person. Application information is on your county website.
WRITE A REVIEW: Help out local business and let people know how your home-buying experience was! Write an online review for you realty, lender, and closing title company.
Recently closed with us? Leave us a review on Google or Facebook. 
Closing your home should be a piece of cake, contact us today if there is anything we can do for you if you just want to chat!
Good luck,
Texas Secure Title Company
817.519.8800  |  www.texassecuretitle.com