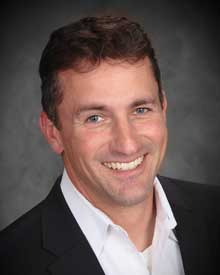 Did you hear the good news? To start the New Year off right we've recently opened a new office location in the city of McKinney. We are eager to explore the business opportunities in the area and familiarize ourselves with the community.
Our new office will be managed by O.J. Ghaemmaghami (pronounced Gah-ma-gah-mee), a recent addition to the Texas Secure Title team. O.J. joins us with a long history of working in the real estate industry, having been raised by parents in the profession. After serving 15 years in the US Air Force, where he flew missions all over the world, assisted in humanitarian relief efforts in New Orleans and served multiple combat tours in Bosnia and Afghanistan, O.J. enrolled in Auburn University. In 2004, he graduated with an MBA and later went on to earn his Doctor of Jurisprudence, Cum Laude, in 2012 from the Texas Wesleyan School of Law (now Texas A&M School of Law).
O.J. has been married to his wife CJ for over 14 years and has three children, Mackie, Maddie and Cameron. In his free time, he enjoys working on his small goat farm in northern Collin County. We are all very excited to have O.J. on our team managing our new location in McKinney!
We have new escrow officers at other locations, as well! New to our Fort Worth office is Courtney Coulter. Courtney joins our team with nearly a decade of experience in the title industry. She's known by most for her energy and persistence, and she has spent the majority of her career in the area of Business Development. It is due to her true passion for superior customer service that she has decided to become an Escrow Officer with Texas Secure Title. We love having her on the team!
Ad our Service Center officer, we recently welcomed Terri Attaway. Terri has spent over three decades consulting consumers and professionals in residential real estate and mortgage lending, including reverse mortgages. We are very excited that she has come to Texas Secure Title Company!